BPIS Students Achievements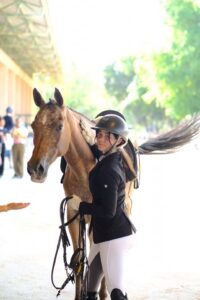 "Congratulations to our talented student Andryana Murray from Y9B" for her outstanding performance at 191 Thailand Championship Qualified 2023
#Q1
jumping and Horseshoe Point Open dressage 2023 competition held at Horesehoe Point, Thailand.
We are proud to announce that Andryana Murray secured the following places:
2nd Place in Dressage Walk Trot with Horse Prince of Sephora.
3rd & 4th Place in Jumping with Horse Bambi.
1st Place in Horseshoe Point Jumping with Scala as well.
Well done, Andryana, for your success, hard work, and dedication towards this competition.
We wish you the best for your future.
"ขอแสดงความยินดีกับ "เด็กหญิงแอนริญาน่า เมอร์เร่" นักเรียนคนเก่งของเราจากชั้น "Year9B" สำหรับผลงานที่โดดเด่นของเธอในการแข่งขัน
191 Thailand Championship Qualified 2023 #Q1 Jump and Horseshoe Point Open Dressage 2023
ซึ่งจัดขึ้นที่ Horesehoe Point ประเทศไทย เราภูมิใจที่จะประกาศว่า "เด็กหญิงแอนริญาน่า เมอร์เร่" ได้รับรางวัลต่อไปนี้: อันดับที่ 2 จาก Dressage Walk Trot with Horse Prince of Sephora อันดับที่ 3 และที่ 4 จาก Jumping with Horse Bambi อันดับที่ 1 จาก Horseshoe Point Jumping กับ Scala เช่นกัน โรงเรียนมีความยินดีและภูมิใจกับ เด็กหญิงแอนริญาน่า เมอร์เร่ สำหรับความสำเร็จในครั้งนี้ และขอชื่นชมกับความพยายามและความทุ่มเทในการฝึกซ้อมอย่างหนักของน้องที่มีต่อการแข่งขันในครั้งนี้ เราหวังว่าน้องจะประสบความสำเร็จยิ่งๆขึ้นไป สำหรับการแข่งขันในครั้งต่อๆไปในอนาคต